The Visible Press recommends two recent publications that should be of interest to readers of our Gregory Markopoulos book "Film as Film" :-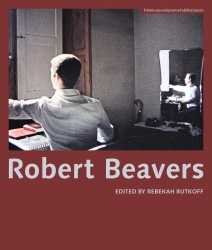 Robert Beavers
Edited by Rebekah Rutkoff
Published by the Austrian Film Museum, 2017
ISBN: 9783901644696
This first monograph on the films of Robert Beavers is another beautifully designed book in the FilmmuseumSynemaPublikationen series from the Austrian Film Museum, Vienna. It comprises eleven newly commissioned essays by authorities such as P. Adams Sitney, Haden Guest, Susan Oxtoby and Kristin M. Jones, reprints of historical articles by Jonas Mekas, René Micha and Tom Chomont, and the filmmaker's own rarely seen writings. A wealth of film stills are included alongside a bibliography and annotated filmography. Gregory Markopoulos' first text on Robert Beavers, "10th of July, 1967", which opens the chapter on Beavers in Film as Film, is also featured.
After Uniqueness: A History of Film and Video Art in Circulation
By Erika Balsom
Published by Columbia University Press, 2017
ISBN: 9780231176934
Erika Balsom's new book After Uniqueness: A History of Film and Video Art in Circulation explores the problematics of reproducibility in film and moving image art by analysing various models of distribution and collecting. Of particular interest is a chapter on Gregory Markopoulos and his unique approach to distribution and exhibition. The author's research of documents in the Temenos Archive has uncovered new details on the motives and aspirations that drove the filmmaker to follow a singular path.