Film as Film: The Collected Writings of Gregory J. Markopoulos
Edited by Mark Webber
The Visible Press, 2014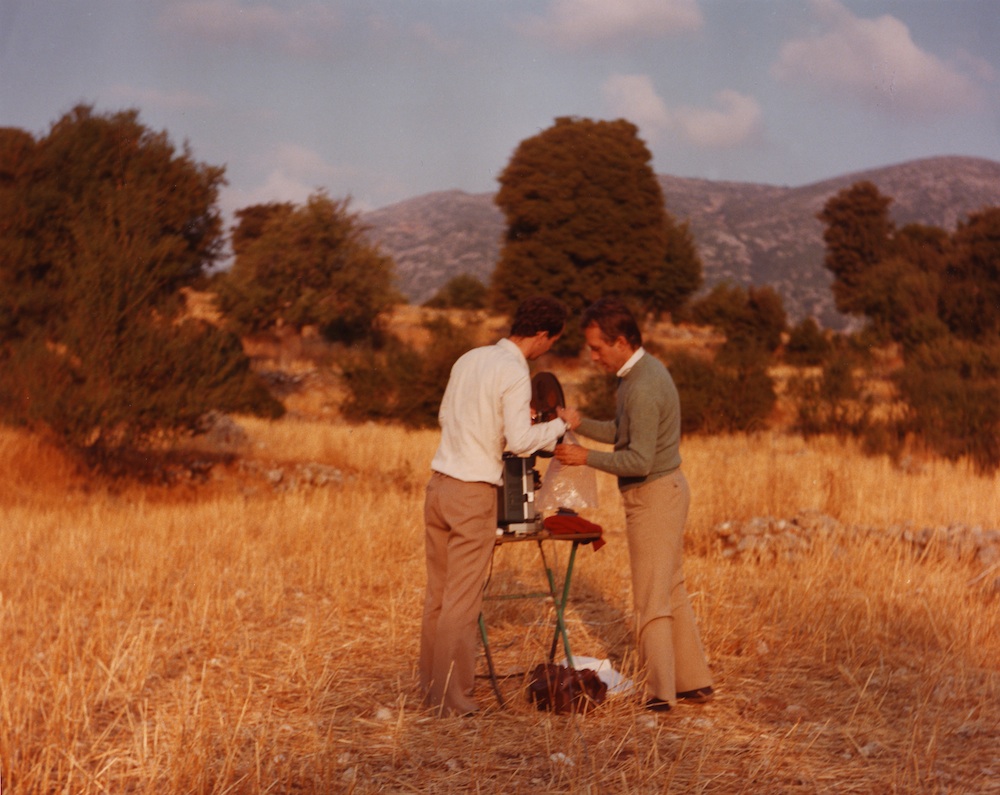 The opening paragraphs of the introduction to Film as Film, written by the book's editor Mark Webber :-
In the Spring of 1980, Gregory Markopoulos travelled through Europe en route to Athens for a screening of one of his most celebrated works at the prestigious National Gallery. This was to be the first Greek presentation of The Illiac Passion (1964-67), a contemporary interpretation of Prometheus made in New York at the height of Markopoulos' reputation as one of cinema's leading innovators. Unfortunately, the projection never took place. The event was cancelled following discussions between the museum director and his advisory board who were concerned by mentions of nudity contained in the programme notes the filmmaker had sent in advance of his arrival. This experience set Markopoulos on a journey deep into the province of Arcadia, his ancestral homeland, where he would discover a remote location that he believed was the ideal setting for his work.
One of the few Markopoulos films to have been shown in Greece up to this point was Psyche, his first 16mm film, in 1955. It had been made in Los Angeles in 1947, concurrent with the debuts of his acquaintances Kenneth Anger and Curtis Harrington. As a USC student in the late 1940s, Markopoulos was fortunate to attend lectures by Joseph von Sternberg, and to watch directors Jules Dassin, Alfred Hitchcock and Fritz Lang at work, but he soon grew disillusioned with the conventions of film education. Returning to his hometown of Toledo, Ohio, he continued his filmmaking and began to develop his notions of colour, composition and editing. From there, he visited Paris, where he made contact with literary figures such as André Gide and Jean Cocteau, observed Marcel Carné on set, and met with Jean-Luc Godard (who, as a young film enthusiast, asked Markopoulos to sponsor his first visit to the USA). From 1953 to 1961, he laboured on Serenity, based on a novel by Elias Venezis. This was the closest that Markopoulos came to completing a 35mm feature film. It was a traumatic process that ended when, in order to recover his fee, Markopoulos was forced to abandon the project and surrender the film materials to the investors. The experience was a defining one, reinforcing his belief that for a film to be an artistic statement, true to its maker's vision, then it had to be made free from financial constraints and expectations.
By the time Markopoulos settled in New York in 1960 he was already known as one of the foremost practitioners of avant-garde cinema. He was closely involved in establishing the New American Cinema Group and Film-Makers' Cooperative, both led by Jonas Mekas, and helped foster a movement that blossomed into an international explosion of personal filmmaking. As an active participant in the film community, he regularly contributed to film journals and encouraged other filmmakers (including Tom Chomont, Storm De Hirsch, Nathaniel Dorsky and Warren Sonbert) to pursue their art. His two major works of the period, Twice a Man (1963) and The Illiac Passion, both adapted from Greek mythology, employed a fragmented editing style that radicalised narrative construction. With Galaxie and Ming Green (both 1966) he created a new form of cinematic portraiture, editing and building complex layers of superimposition entirely in-camera at the moment of filming.
As the end of the decade approached, Markopoulos grew increasingly unhappy with the conditions in which films were being exhibited, critical interpretations of the work, and the semi-commercial support structures that had developed within the film scene. His dedication to film, and his frustration at the way it was treated by the cultural establishment, was such that he later withdrew his work from circulation, placing it entirely within his own control and choosing a path that would distinguish him from all filmmakers that had gone before. Leaving the USA for good in 1968, he spent the rest of his life in Europe together with his partner, the filmmaker Robert Beavers, travelling, filming, and making plans for a unique monographic archive for the preservation, presentation and study of their work.
Mark Webber