Markopoulos/Beavers: Experimental Films/Experimental Lives
When:
September 11, 2014 @ 7:00 pm – 9:00 pm
2014-09-11T19:00:00+01:00
2014-09-11T21:00:00+01:00
Where:
Yale Whitney Humanities Centre
53 Wall Street
New Haven, CT 06511
USA

Markopoulos/Beavers: Experimental Films/Experimental Lives
Gregory J. Markopoulos, Christmas USA, 1949, 8 min
Gregory J. Markopoulos, Through a Lens Brightly: Mark Turbyfill, 1967, 15 min
Robert Beavers, Early Monthly Segments, 1968-70/2000, 33 min
Gregory J. Markopoulos, Gilbert and George, 1970/1989-91, 12 min
Robert Beavers, Listening to the Space in My Room, 2010, 19 min
Introduced and followed by a conversation with Mark Webber and Robert Beavers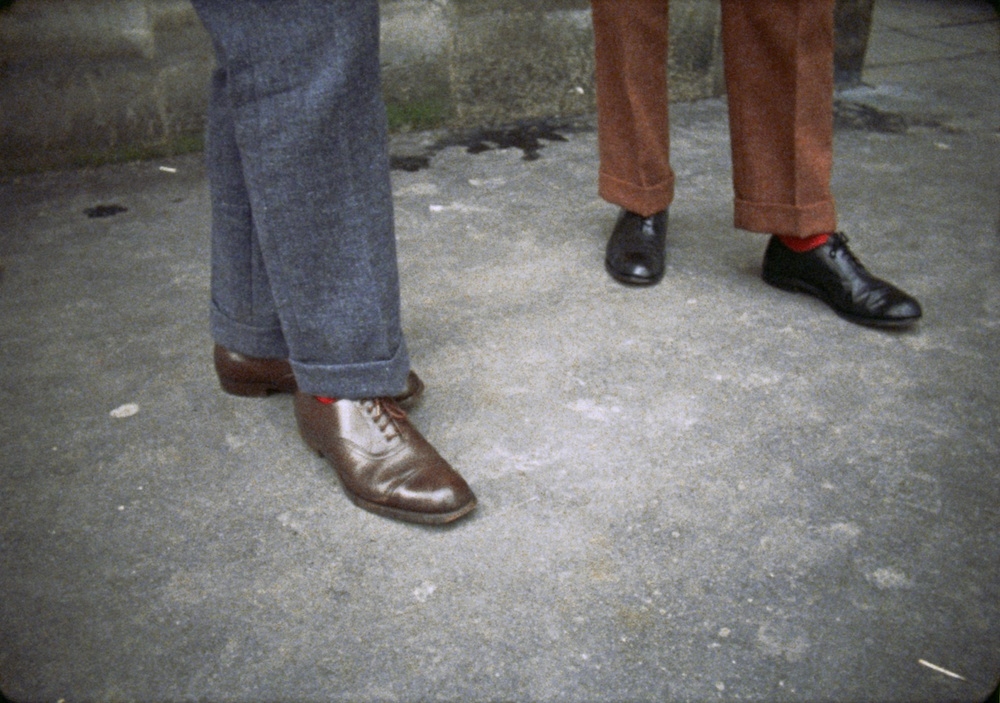 CHRISTMAS U.S.A.
Gregory J. Markopoulos, 1949, 16mm, 8 min
"The film is a subtly joyous depiction of sexual and sensual awakening – a celebration of a young man's discovery of strange, exciting things lurking beyond the drab normality of the everyday. It's a specific metaphor for Markopoulos' homosexuality, of course, but also more generally for the sexual and intellectual awakenings of adolescence, the escape from the family to the individual life. That Markopoulos populates this moment with such wonder, passion, and mystical tension is a testament to his sure-handed ability to convey complex emotions cinematically, even at this early stage of his career." (Ed Howard)
THROUGH A LENS BRIGHTLY: MARK TURBYFILL
Gregory J. Markopoulos, 1967, 16mm, 15 min
"One of the most accomplished works in Markopoulos's series of film portraits, Through a Lens Brightly is a vivid study of the dancer and poet Mark Turbyfill that uses paintings and photographs in his home to recapture and illuminate a life in the arts." (Harvard Film Archive)
EARLY MONTHLY SEGMENTS
Robert Beavers, 1968-70/2000, 35mm, 33 min
"Early Monthly Segments, filmed when Beavers was 18 and 19 years old, now forms the opening to his film cycle, "My Hand Outstretched to the Winged Distance and Sightless Measure." It is a highly stylized work of self-portraiture, depicting filmmaker and companion Gregory J. Markopoulos in their Swiss apartment. The film functions as a diary, capturing aspects of home life with precise attention to detail, documenting the familiar with great love and transforming objects and ordinary personal effects into a highly charged work of homoeroticism." (Susan Oxtoby)
GILBERT AND GEORGE
Gregory J. Markopoulos, 1970/1989-91, 16mm, 12 min
"Gregory Markopoulos' Gilbert and George (1970) is a film marked by absence. Though a portrait of the artistic duo, the film indulges in none of the privileging of visibility on which the genre of portraiture often rests. Much of its twelve-minute duration is filled not with likenesses of the artists but with black and white leader. Occasionally a flash of image – a pair of feet, for example – will fill the screen for a brief moment before retreating again. The flow of movement, so crucial to most films, is missing. In its place is a rigorous engagement with the medium's most basic elements, one that returns the viewer to the stillness of the individual film frame." (Erika Balson)
LISTENING TO THE SPACE IN MY ROOM
Robert Beavers, 2010, 16mm, 19 min
"Ostensibly a portrait of a place where the artist had resided until recently, the film conjures not only the memory but also the physical presence of those who have previously stayed there. Adhering to a solitary intimacy while simultaneously acting as an ode to human endeavour and shared impulses toward fulfillment through art, Listening to the Space in my Room is a moving testament to existence (whose traces are found in literature, music, filmmaking, gardening) and our endless search for meaning and authenticity. The film's precise yet enigmatic sound-image construction carries a rare emotional weight. " (Andréa Picard)
Presented by the Yale Film Studies Program, Hellenic Studies Program, Yale Film Colloquium, and Films at the Whitney.