Screening: Lis Rhodes – Telling Invents Told
When:
December 6, 2019 @ 6:00 pm – 8:00 pm
2019-12-06T18:00:00+00:00
2019-12-06T20:00:00+00:00
Where:
CCA Glasgow
350 Sauchiehall Street
Glasgow
G2 3JD

Screening: Lis Rhodes – Telling Invents Told
Lis Rhodes, Notes From Light Music, 1975-77, 12 min
Lis Rhodes, Pictures on Pink Paper, 1982, 35 min
Lis Rhodes, Hang on A Minute / No. 8 Bus, 1983, 1 min
Lis Rhodes, Orifso, 1999, 12 min
Lis Rhodes, Riff, 2004, 18 min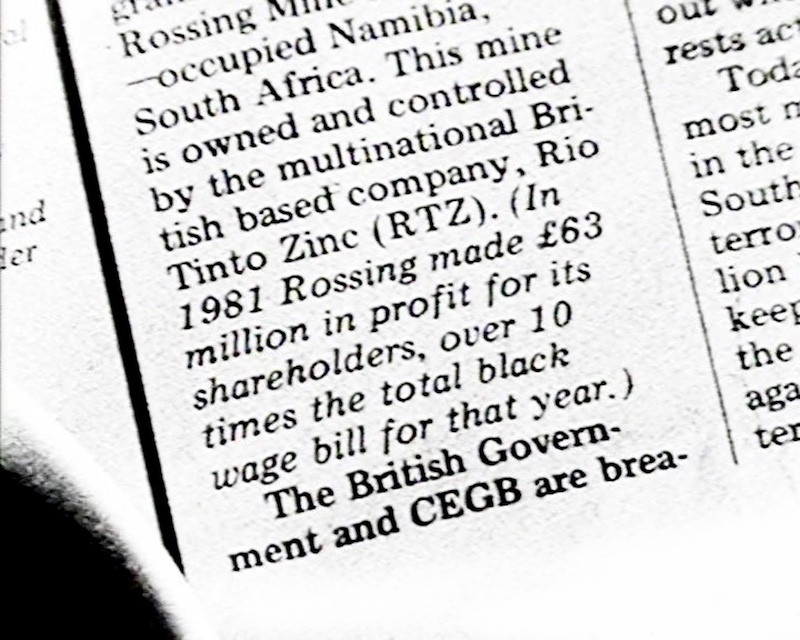 A screening selected and introduced by artist, curator and writer Lucy Reynolds. This is the first of a two-part Glasgow book launch for Telling Invents Told, a collection of writings by artist and filmmaker Lis Rhodes, published by The Visible Press earlier this year. The book's editor María Palacios Cruz will host a reading and discussion at Glasgow Womens' Library the following afternoon.
"Lis Rhodes is an artist who takes words seriously, whether spoken, on the page or on the screen. Telling Invents Told draws together texts and images from across a career committed to unpicking the power relations of language. The book provides a rich inventory of texts written for a range of purposes: to accompany film images, to question established histories and advocate for the women left out of them, and, in extracts from her recent visual essay Journal of Disbelief, to call out injustices in all of their many forms. This indispensable volume offers a valuable opportunity to appreciate the inventiveness of Rhodes' writing and its vital role in understanding her art." (Dr. Lucy Reynolds, University of Westminster, London)
Copies of Telling Invents Told will be available for purchase at a reduced price.