The Films of Gregory J. Markopoulos
When:
October 24, 2018 @ 8:00 pm – 10:00 pm
2018-10-24T20:00:00+01:00
2018-10-24T22:00:00+01:00
Where:
Tabakalera
Andre zigarrogileak plaza
1, 20012 Donostia, Gipuzkoa
Spain

The Films of Gregory J. Markopoulos

Gregory J. Markopoulos, Bliss, 1967, 6 min
Gregory J. Markopoulos, Twice a Man, 1963, 49 min
Gregory J. Markopoulos, Gilbert and George (Eniaios III, Reel 1), 1975, 12 min
Introduced by Mark Webber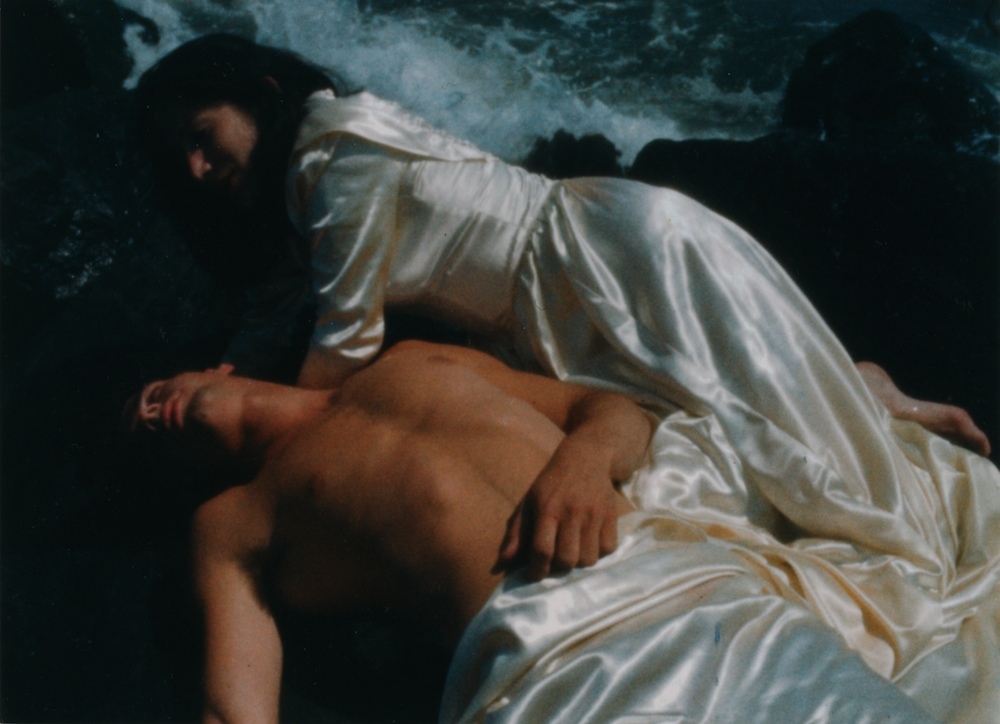 "There is no language. There is no art. There is no knowledge. There is but film as film: the beginning and the eternal moment." (Gregory J. Markopoulos, The Intuition Space, 1973)
Gregory J. Markopoulos (1928-92) was one of the most original filmmakers to emerge in post-war American cinema. His films, which encompass mythic themes, portraiture and studies of landscape and architecture, are celebrated for their extraordinary creativity, the sensuous use of colour and innovations in cinematic form. By employing complex editing techniques and spontaneous in-camera superimposition, he sought to unlock the mystery and energy contained within the single frame.
As a contemporary of Maya Deren, Kenneth Anger and Jonas Mekas, Markopoulos was amongst those at the forefront of a movement that liberated cinema as an artistic mode of expression. Having made his first 16mm film (Psyche) as a student in 1947, he went on to produce several key works of the New American Cinema such as Twice a Man (1963) and The Illiac Passion (1964-67).
At the end of the 1960s, he moved to Europe to pursue a very individual path. Firmly believing that a filmmaker should be responsible for all aspects of his work, he conceived the Temenos, a monographic archive for the presentation, preservation and study of his films. He then chose to re-edit his entire oeuvre into a monumental 80-hour long film to be shown only at a remote location near to his ancestral home in Arcadia, Greece. This speculative project is being realised posthumously by the open-air Temenos screenings that have taken place every four years since 2004.
The programme will be introduced by Mark Webber, editor and publisher of "Film as Film: The Collected Writings of Gregory J. Markopoulos." The book, which gathers almost 100 texts dating from 1950 to 1992, will be available at the screening.
…
Gregory J. Markopoulos: Film as Film
BLISS
Gregory J. Markopoulos, USA, 1967, 16mm, colour, sound, 6 minutes
Bliss was the first film Markopoulos made after relocating to Europe. A kaleidoscopic portrait of the interior of a Byzantine church on the island of Hydra, it was composed and superimposed in-camera in the moment of filming.
TWICE A MAN
Gregory J. Markopoulos, USA, 1963, 16mm, colour, sound, 49 minutes
Twice A Man is a fragmented re-imagining of the Greek myth of Hippolytus, who was killed after rejecting the advances of his stepmother. Markopoulos' vision transposes the legend to 1960s New York and has its main character abandon his mother for an elder man. Employing sensuous use of colour, the film radicalised narrative construction with its mosaic of 'thought images' that shift tenses and compress time. One of the touchstones of independent filmmaking, Twice A Man was made in the same remarkable milieu as Scorpio Rising and Flaming Creatures by a filmmaker named 'the American avant-garde cinema's supreme erotic poet' by its key critic P. Adams Sitney.
GILBERT AND GEORGE (Eniaios III, Reel 1: Gibraltar)
Gregory J. Markopoulos, USA, 1975, 16mm, colour, silent, 12 minutes
Markopoulos documented a remarkable constellation of figures from literature, performance and the visual arts. This study of British artists Gilbert and George is part of the epic final work Eniaios, and was constructed by placing short bursts of images between measures of black or clear leader.