Lis Rhodes: Telling Invents Told
The Visible Press is pleased to announce our new book Telling Invents Told by British artist and filmmaker Lis Rhodes.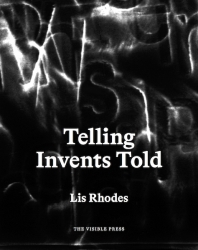 Telling Invents Told is the first collection of writings by Lis Rhodes. It includes the influential essay Whose History? alongside texts from works such as Light Reading, Pictures on Pink Paper and A Cold Draft, together with new and previously unpublished materials. Since the 1970s, Rhodes has been making radical and experimental work that challenges hegemonic narratives and the power structures of language. Her writing addresses urgent political issues – from the refugee crisis to workers' rights, police brutality, racial discrimination and homelessness – as well as film history and theory, from a feminist perspective. An important figure at the London Film-Makers' Co-operative, Rhodes was also a founding member of Circles, the first British distributor of film, video and performance by women artists.
Lis Rhodes' early films and expanded cinema works include Dresden Dynamo (1971), Light Music (1975-77), and Light Reading (1978). These, and more recent works in video and digital, have featured in solo exhibitions at Tate Modern, the ICA, and are currently on display in the solo exhibition Dissident Lines at Nottingham Contemporary (25 May – 1 September 2019).
Telling Invents Told is edited by María Palacios Cruz, co-founder of The Visible Press and deputy director of LUX. Details of events that will celebrate its publication will be announced soon.