Thom Andersen & William E. Jones in Conversation
When:
April 8, 2018 @ 4:00 pm – 6:00 pm
2018-04-08T16:00:00+01:00
2018-04-08T18:00:00+01:00
Where:
Artbook @ Hauser & Wirth LA
917 E 3rd St
Los Angeles, CA 90013
USA

Slow Writing
Thom Andersen & William E. Jones in Conversation

We are pleased to announce that Thom Andersen and artist/filmmaker William E. Jones will be in conversation at Artbook @ Hauser and Wirth in downtown Los Angeles on the afternoon of Sunday 8 April, 2018. Beginning with discussion of Slow Writing: Thom Andersen on Cinema (The Visible Press, 2017), the conversation will likely explore their working practice as essayists in print and the moving image, and their mutual interests as critics and film viewers.
The event is free admission, and no need to book. Copies of Slow Writing: Thom Andersen on Cinema will be available for purchase.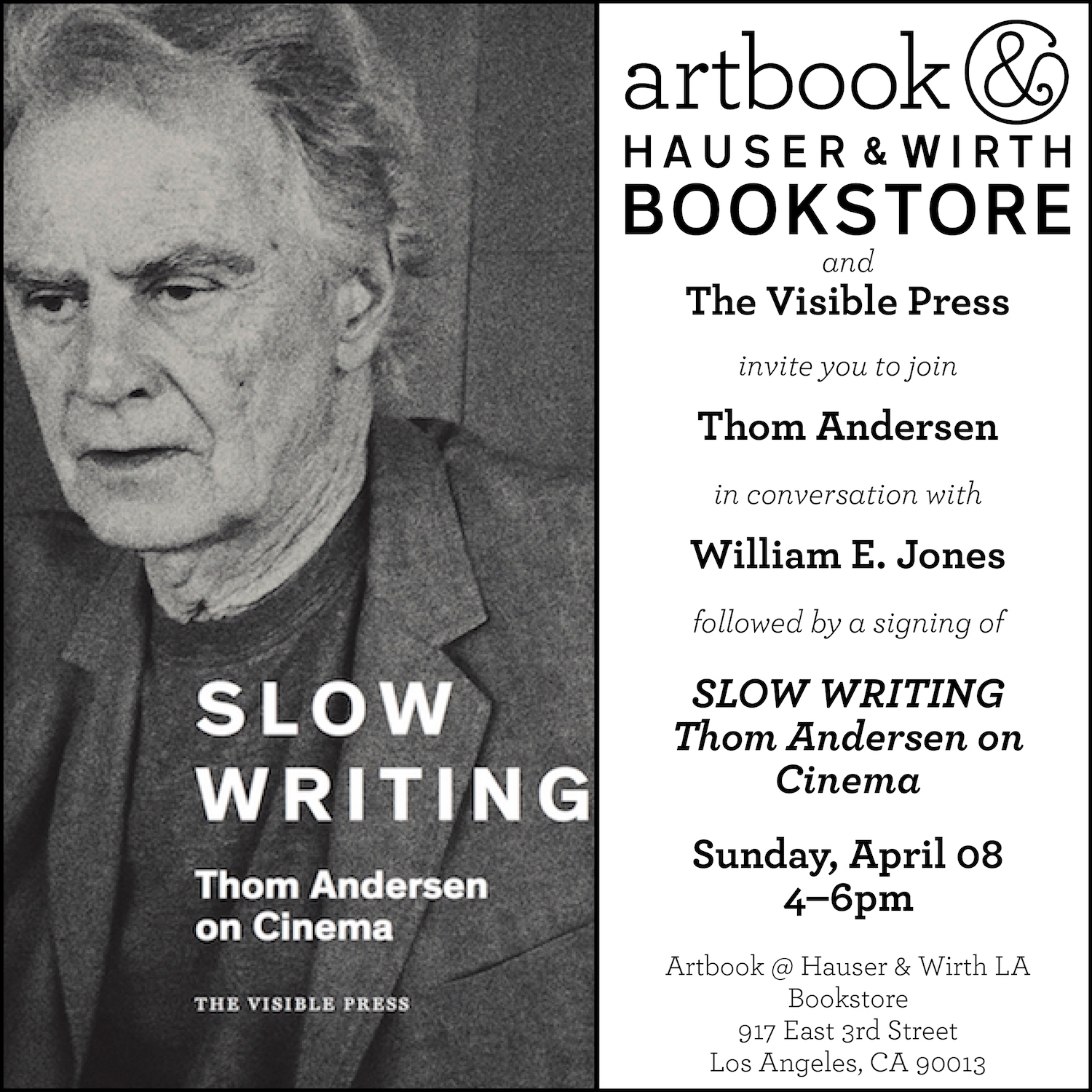 Thom Andersen has lived in Los Angeles for most of his life, and his knowledge of and enthusiasm for the city has deeply informed his work, not least his widely praised study of its representation in movies, Los Angeles Plays Itself (2003). His other films include Eadweard Muybridge, Zoopraxographer (1974), Red Hollywood (1996, made with Noël Burch), Get Out of the Car (2010) and The Thoughts That Once We Had (2015). Andersen has contributed to journals such as Film Comment, Artforum, Sight and Sound and Cinema Scope, and has taught at the California Institute of the Arts since 1987. Slow Writing: Thom Andersen on Cinema is the first collection of his essays.
William E. Jones is an artist, filmmaker and writer. His films and videos include Massillon (1991), The Fall of Communism as Seen in Gay Pornography (1998), Is It Really So Strange? (2004), and the recent essay film Fall into Ruin (2017) about the Greek art dealer Alexander Iolas and his abandoned house in Athens. He teaches film history at the Art Center College of Design in Pasadena, and is represented by David Kordansky Gallery, Los Angeles, The Modern Institute, Glasgow, and Galleria Raffaella Cortese, Milan. Books by William E. Jones include Halsted Plays Himself (2011) and True Homosexual Experiences: Boyd McDonald and Straight to Hell (2016).

Thom Andersen and William E. Jones collaborated on the book Between Artists: Thom Andersen and William E. Jones (A.R.T. Press) in 2013.
With thanks to Lacy Soto, Skuta Helgason and Tosh Berman.