Light Reading: 2 x Lis Rhodes
When:
November 12, 2019 @ 7:00 pm – 8:30 pm
2019-11-12T19:00:00+00:00
2019-11-12T20:30:00+00:00
Where:
UWM Union Cinema
2200 E. Kenwood Blvd.
Milwaukee, WI 53211
USA

Light Reading: 2 x Lis Rhodes
Lis Rhodes, Ambiguous Journeys, 2018, 40 mins
Lis Rhodes, Light Reading, 1978, 20 mins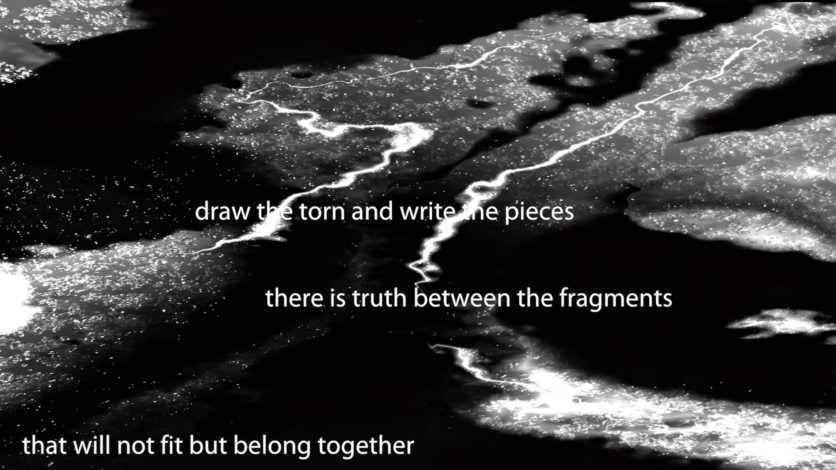 "There is a truth between the fragments / That will not fit but belong together."
On the occasion of this year's publication of her collected writings — Telling Invents Told — Experimental Tuesdays at the UWM Union Cinema shares two works from the UK filmmaker Lis Rhodes, a pioneering feminist filmmaker who, since the 1970's, has engaged and challenged the conventions of film form to unveil, dismantle, and re-write the otherwise sustained power structures of language.
AMBIGUOUS JOURNEYS
Lis Rhodes, 2019, digital, colour, sound, 40 minutes
"In the trap of a neo-liberal economy lives are determined by conditions of increasing inequality and accumulating debt. There is very little protection for someone with little or nothing. Without proof of address, without papers, existence becomes subject to manipulation and debt. Debt as a means of control. The distortions of corporate wealth and cheap labor are made to appear inevitable. There is no ambiguity in the reasonable reasons for the journeys made by many – to escape conditions that are organized, imposed and untenable. War, poverty, and unemployment move people. The danger is — as in Running Light (1996) –of 'no papers' – a condition of 'illegality ' imposed on a person who can then be deported. Exploitation deepens for those being made or born stateless – 'a person who is not considered as a national by any State under the operation of its law'. A stateless person does not have a nationality or legal protection of any country. This is exploited by a global economy that depends on cheap, expendable labor. There are no sides to emptiness – the ambiguity is in the place of writing – the frozen window – drawn in ice." (Lis Rhodes)
LIGHT READING
Lis Rhodes, 1978, 16mm, b/w, sound, 20 minutes
"Rhodes manipulation of, and dexterity with, cinematic techniques is a constant throughout her work. Light Reading is a technical and aesthetic tour de force of rapid fire editing, myriad techniques, and a compelling text which both manipulates and questions language. The constant themes of repression and the price of rebellion are all anchored around the hypnotic elliptical voice." (Gill Henderson, A Directory of British Film & Video Artists, 1996)
Experimental Tuesdays at the Union Cinema is a free series on most Tuesdays throughout the academic year that shares contemporary and canonical experimental media. Presented by the UWM Union Cinema and the UWM Department of Film, Video, Animation, and New Genres.