Slow Writing: Thom Andersen on Cinema Los Angeles book launch at Skylight Books on 12 October 2017, at 7:30pm. Thom will be present to read from, sign, and discuss the new book with writer and poet Tosh Berman.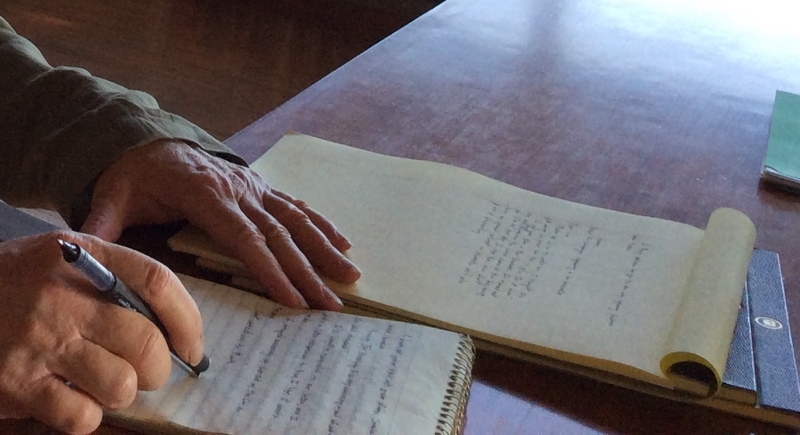 Slow Writing is a collection of articles by Thom Andersen that reflect on the avant-garde, Hollywood feature films, and contemporary cinema. His critiques of artists and filmmakers as diverse as Yasujirō Ozu, Nicholas Ray, Andy Warhol, and Christian Marclay locate their work within the broader spheres of popular culture, politics, history, architecture, and the urban landscape. The city of Los Angeles and its relationship to film is a recurrent theme. These writings, which span a period of five decades, demonstrate Andersen's social consciousness, humour and his genuine appreciation of cinema in its many forms. Thom Andersen's films include the celebrated documentary essays Eadweard Muybridge, Zoopraxographer (1975), Red Hollywood (1996), Los Angeles Plays Itself (2003), and The Thoughts That Once We Had (2015). Of the thirty-four texts included in the book, six are hitherto unpublished; others have been revised or appear in different versions to those previously available.
Thom Andersen has lived in Los Angeles for most of his life. His knowledge of and enthusiasm for the city has deeply informed his work, not least his widely praised study of its representation in movies, Los Angeles Plays Itself (2003), which was voted one of the 50 Best Documentaries of All Time in a Sight & Sound critics' poll. Andersen made his first short films and entered into the city's film scene as a student of USC and UCLA in the 1960s. His hour-long documentary Eadweard Muybridge, Zoopraxographer (1974) was realised under an AFI scholarship and has lately been restored by the UCLA Film and Television Archive. His research into the victims of the Hollywood Blacklist, done in collaboration with film theorist Noël Burch, produced the video essay Red Hollywood (1996) and book Les Communistes de Hollywood: Autre chose que des martyrs (1994). Andersen's recent films include Reconversão (2012) on the work of Portuguese architect Eduardo Souto de Moura, and The Thoughts That Once We Had (2015), a personal history of cinema loosely inspired by Gilles Deleuze. A published writer since 1966, Andersen has contributed to journals such as Film Comment, Artforum, Sight and Sound and Cinema Scope. He has taught at the California Institute of the Arts since 1987, and was previously on faculty at SUNY Buffalo and Ohio State University. Also a respected film curator, he has acted as programmer for Los Angeles Filmforum and curated thematic retrospectives for the Viennale. Slow Writing: Thom Andersen on Cinema is the first collection of his essays.
Tosh Berman is a writer and poet. His two books are Sparks-Tastic (Rare Bird) and a book of poems, The Plum in Mr. Blum's Pudding (Penny-Ante Editions). He is also the publisher and editor of his press, TamTam Books, which published the works of Boris Vian, Serge Gainsbourg, Guy Debord, Jacques Mesrine, Ron Mael & Russell Mael (Sparks) Gilles Verlant, and Lun*na Menoh.
With thanks to David Gonzalez and Skylight Books.